Welcome to the Dead Sea Scrolls LibGuide @SBTS. I hope you will find this site to be a helpful introduction to the study of the Dead Sea Scrolls.
This site is organized by tabs.
The tabs are categorized according to certain types of resources:
Texts: Under this tab you will find primary sources, in the original languages and in translation, for accesseing the scrolls.
Reference Tools: Here you will find lexicons, concordances, encyclopedias/dictionaries, and a couple seminal monographs devoted to the Dead Sea Scrolls. Weston Fields' Full History is a 'must-read' for those who want to understand the controversial history of the discovery and publication of the scrolls.
Journals and Bibliographies: The journals and bibliographies listed here are dedicated to Dead Sea Scrolls scholarship. You will need to search the standard biblical studies journals (e.g., JBL), but be

sure to look through the table of contents in the featured journals.
New to Dead Sea Scrolls studies?
Navigating the resources:
Be sure to check out Joseph Fitzmyer's Guide to the Dead Sea Scrolls and Related Literature, which is featured in the bibliographies section of this site. This resource will help you navigate the major publications. You might also find Emanuel Tov's Revised List, featured on the Reference Tools page, helpful as well.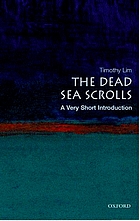 Understanding the issues:
Timothy Lim's Dead Sea Scrolls: A Very Short Introduction (Oxford, 2005), featured on the Reference Tools page, provides a balanced, concise introduction to Scrolls studies.
(updated 12/13/12)